Sonic Screwdriver is a multi-functional tool used by the Doctor. First appearing in 'Fury from the Deep', it is used for a variety of functions, including unlocking doors, activating devices, medical examinations and as a conventional screwdriver. The Screwdriver has been used by almost every incarnations of the Time Lord and is considered one of their most iconic gadgets.
In the Mod
In the mod, the Sonic Screwdriver is a valuable tool that has sound effects, numerous variations and many useful features. In the latest update, each Sonic can do the following:
Open Iron Doors and Trapdoors
Shear sheep
Turn on redstone lamps
Ignite TNT
Instantly smelt Iron and Gold Ore into Ingots
A GUI showing the following when hovered over:

If the Screwdriver was obtained from Creative mode or crafted in Survival
The number of uses the Screwdriver has
The name of the block the player is looking at
The statistics and a picture of any mobs scanned (happens when the player is looking at an entity for a short length of time).
Sonic Screwdrivers Variations
There are a variety of different Sonic Screwdrivers in the mod. Each one has the same abilities but looks different. They are as follows: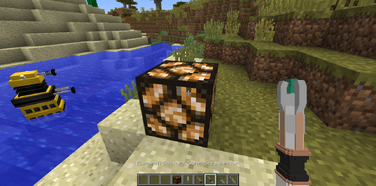 Canon
Second Doctor's Sonic Screwdriver
Fourth Doctor's Sonic Screwdriver
Seventh Doctor's Sonic Screwdriver
Tenth Doctor's Sonic Screwdriver
Eleventh Doctor's Sonic Screwdriver
Eleventh Doctor's Sonic Cane
Twelfth Doctor's Sonic Screwdriver
Thirteenth Doctor's Sonic Screwdriver
Romana's Sonic Screwdriver
Sonic Shades
Laser Screwdriver (Has Sonic Mode)
Sarah Jane's Sonic Lipstick
River Song's Sonic Screwdriver
Non-Canon
3rd/12th Doctor Sonic Screwdriver Hybrid
Spaceblock Sonic Screwdriver
DrWho's Sonic Screwdriver
USB Sonic
Wooden Sonic Screwdriver
Steampunk Sonic Screwdriver
Crafting
Most recipes require an electronic circuit, a sonic crystal and titanium.
Community content is available under
CC-BY-SA
unless otherwise noted.