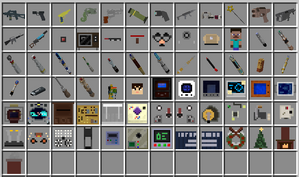 Here are some of the main blocks items which are currently in the mod. Not all blocks and items may be listed here, such as items which don't have a wikia page yet or dozens of variants of the same block.
Items
Gadgets
Travel
Ores and Minerals
Clothing
Guns
UNIT RPG
Timelord Staser
Taser
Other
Blocks
TARDIS controls
Monitor (various versions)
Sonic Screwdriver Charging Station
Community content is available under
CC-BY-SA
unless otherwise noted.